Buying a house is stressful. I haven't done this in almost five years, and I'm sure I've forgotten some of the stressors, but I remember the experience being specifically undesirable and telling Shaun I was never moving again. Spoiler alert: we will most definitely be moving again. Soon, hopefully. We looked for houses for months. There were only two of us with no immediate plans for children, so we just wanted a two or three bedroom house, two bathrooms, and a little bit of a yard for our dog. Having only been married a few months, I was so over planning anything. I told Shaun I just wanted a free house in a nice neighborhood. Why is that so difficult?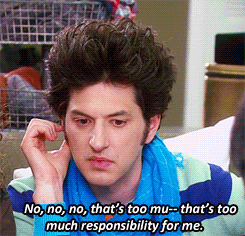 I randomly chose a realtor, randomly chose a price range, randomly started the process of getting pre-approved, remembered to tell Shaun we were buying a house, and then starting searching for random crap I didn't need on consignment sites. I was on a ROLL. We hated the first few houses we saw. I mean, these houses were right out of an episode of "Wow, Please Do Not Buy This House". That's not a real television show, but I couldn't think of any other show except for Scooby Doo and that seemed weird. So. Yeah. I was so done looking at houses and didn't want to look at another one. I hadn't even gotten to the stressful part yet and I was just over it. So, as things go, we looked at another house and it was perfect. Right in town, close to all three schools for someday when we had kids, super old and was passed through the same family for over 100 years. This was it. We made the offer, offer was accepted, and we were ready. Boom. I remember a specific day during the wait for closing on the house. I had gotten sick at work and felt fine afterward, but decided to go home anyway in case it was a bug. I was looking around on consignment sites for stuff for the house and I FOUND IT. I mean, she was perfect. They say when you know, you know…and I KNEW.
Henrietta. I had to have this cookie jar for our kitchen. Shaun gets home from work and we decided to grab takeout because I wasn't feeling well again. I remember telling him we needed to make a stop. He, of course, wants to know why. I give him the address and tell him I found our first house decoration. I went to the front door to meet the woman, exchanged the money for Henrietta, and practically skipped to the car. "A cow…?" "YEAH BABE! She's a cookie jar and she's amazing. Look at those fierce eyes. I love her". "ooook Ali". This is how our typical conversations go. He just nods and continues driving. I really have no idea why I loved this cow so much. It was a random infatuation but it's a solid one. Once we moved into the house, on that very first day, I found out we were pregnant. I knew that explained the random sickness, but Shaun thought it maybe explained my weird love for Henrietta. WRONG. My love for Henrietta doesn't need explained. I filled her up with cookies while I was pregnant, so I was able to appreciate her even more. So. Many. Cookies. I copied her glare for when Shaun stared at me while I shoved 5,000 cookies in my mouth. Henrietta now sits on a shelf in our kitchen so my children can't break her. But she still gets a "heyyyy, Henrietta" daily when I walk into the kitchen. Maybe I'll give her to Violet some day. Probably not. But it's a nice thought.